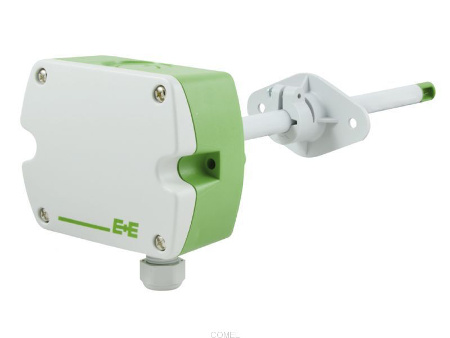 EE650 Air velocity transducer
Transducer of air velocity in ventilation systems and air conditioning (HVAC). Model EE650 is designed to measure air velocity in the range up to 20 m/s. The transmitter uses a new design sensor VTQ, which is very resistant to pollution.
Thanks to appropriate forming of the air flow, the contamination is kept away from the sensor surface thereby reducing wear. In a significant way, this improves measurement stability over time and reduces the failure rate. The transducer is available for mounting in air duct or as a probe on a cable. The output signal of 0 ... 10V or 4 ... 20 mA is selected using the built-in switch.
Measuring range 0 ... 10, 15, 20 m/s
Output 4...20mA/0...10V
Power supply 24 V AC/DC ; air duct version
Probe length 200mm
Working temperature -20 ... 60 °C
Polycarbonate housing IP65