Manufacture of our own products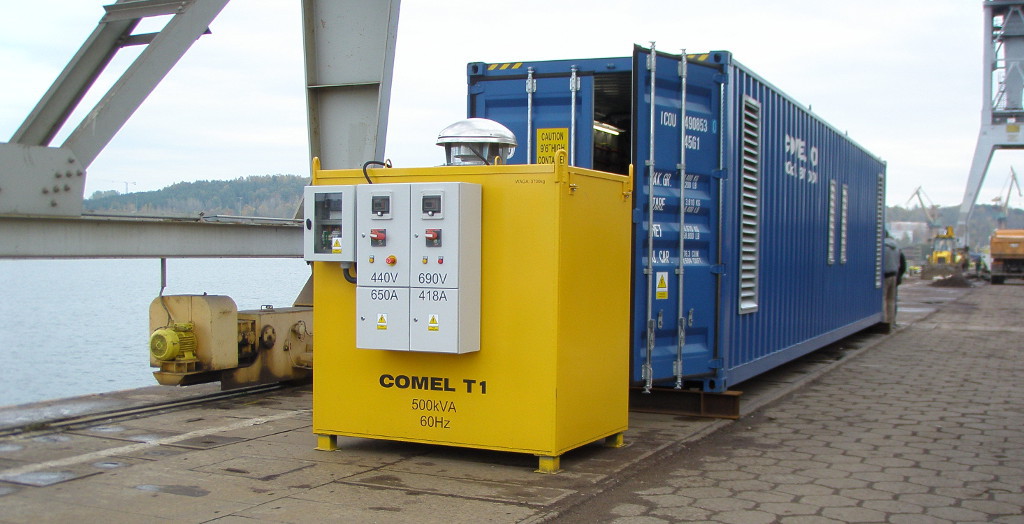 Since 1993, we have been manufacturing our own products. Our flagship products are frequency converters 50/60Hz for supply ships during their stay in the yard or in port. We started with rotary converters, the first of 250kVA power was delivered to the Gdansk Shipyard. In 1999, two COMEL converters  provided power for two warships acquired from the United States Navy ORP "Gen. T. Kosciuszko" and ORP "Gen. K. Pulaski" while berthed in naval port in Gdynia. They are suitable for parallel operation, and thus can supply together 2x750kVA = 1500kVA of electricity.

The first power electronic inverter of 200 kVA was delivered to Nauta Shipyard in 2007. Last year, COMEL manufactured a static converter 50/60Hz with a capacity of 1000 kVA. This drive has been delivered to a repair yard in a specially adapted, air-conditioned sealed container. This ensures long life of electronic devices in the workplace exposed to a number of unfavorable factors, such as conductive dust, moisture, large temperature fluctuations. 
We find solutions also to some other tasks related to processing of electricity. In 2009, we helped the US based Delphi corporation to supply power to a production line that was imported from across the ocean, from a factory in Canada. A year later, we designed and delivered a solution for power supply and battery charging of submarines. We also manufacture power converters for research, education. More and more Polish companies report demand for 60Hz power supply for the performance testing of its products to be exported to American markets. We publish more details about converters on our separate website http://www.frequencyconverter.eu/

For many years, we have been designing and assembling electrical switchboards and control and automation cabinets. In close cooperation with customers we provide start-up assistance and, if necessary, full service support. Our  switchboards work in a number of food industry enterprises, in office and industrial buildings, in wastewater treatment plants, at railway ground installations.