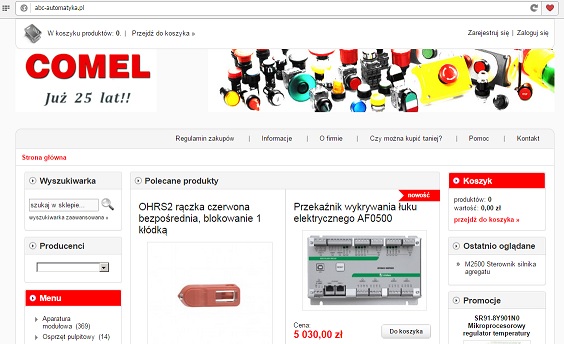 Professional technical sales - selection, advice, confidence
We have been specializing in what we call "qualified sales" of electrotechnical and industrial automation equipment and components business since more than 25 years. "Qualified" because since the creation of our company we have been taking particular care to ensure that COMEL employees become customers' partners and advisors. We share engineering knowledge, which turns out to be so useful in an era of rapid technological progress and specialization. We help in selecting the best solution under the circumstances, pointing out not solely the technical aspects, but combining them with the economic and logistical considerations as well.
Inventors of their own automation systems, machine manufacturers, maintenance specialists, electrical switchgear purchasing managers, anyone who needs a reliable supply of elements for its business will appreciate the benefits of cooperation with COMEL. We give our clients confidence that they will receive a product that does its job in the target application.
Within the scope of our trading activities, we deal with both imports from countries outside the European Union, as well as exports to them. We guarantee that imported foreign products comply with existing EU standards and regulations.
In three locations in Gdansk, Gdynia and Rumia COMEL maintains separate stocks of electrical and automation components, in particular we keep inventories of typical products necessary for the assembly of switchgear. Contactors, relays, connectors, cable ducts, control cables, panel lights and buttons, transformers and dozens of other products can be purchased right away.

A portion of the company's offer can be consulted on the website of our online store http://abc-automatyka.pl (unfortunately only in Polish at the moment). Real bargains can be found in the section Sale. We invite visitors tol ome and negotiate prices and terms of purchase.