ZML Motor Starters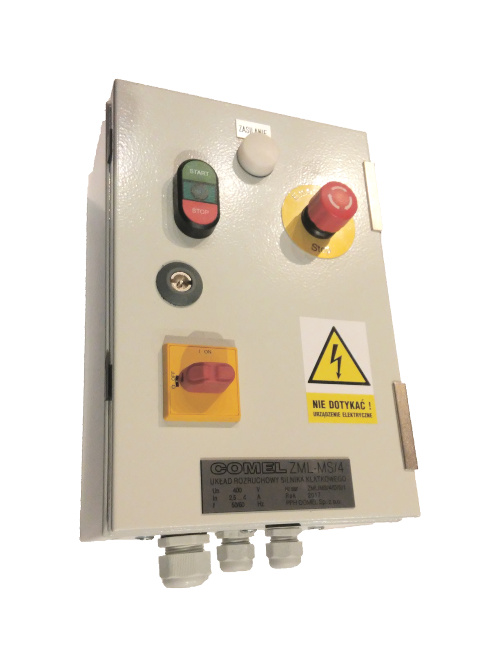 COMEL manufactures a ZML line of robust and reliable direct on line (DOL) motor starters for electric motors up to 25 Amps nominal current and up to 400V AC (max 690V AC) nominal voltage. These solid products have been designed with demanding installation and work environment in mind - for industrial applications. In particular they are suitable for harsh conditions met in shipyards and on board vessels. COMEL motor starters ensure DOL motor start and overload protection.
The standard ZML motor starter execution is based on a solid metal enclosure with IP54 degree of protection. The equipment inside consists of:
main disconnector
contactor with push button control
motor protective circuit breaker
emergency stop
A POWER ON pulpit lamp and a RUNNING indication is provided for the operator. The cables' entry is prepared from the bottom. Such a standard execution is presented in the picture.
On request - there is a possibility (often priced separately) of ordering the ZML motor starter with additional features, for instance:
option for padlockable security
option for mounting a thermal overload relay
possibility for an external STOP command
remote RUNNING state indication
possibility for passing cables from the top
possibility of using an enclosure with IP65 degree of protection
The offered product has been designed to meet IEC/EN 60947-1 and EC/EN 60947-4-1 rules.
This product could be ordered via our e-shop (only in Polish), but especially for our foreign customers we welcome inquiries and orders via email This email address is being protected from spambots. You need JavaScript enabled to view it.
The ordering codes: