Our Participation in Baltexpo 2017 Fair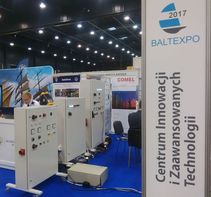 From 11 to 13 September 2017, in the framework of marine fair BALTEXPO 2017, Comel together with Electrical Department of Marine Academy in Gdynia was exhibiting a solution of Serial Active Power Filter (SAPF) operating in a system with 18-pulse rectifier. The booth was launched under common sector named The Center of Innovation and Advanced Technology.
All visitors could receive first hand explanations and watched real operational models of 12-pulse and 18-pulse recifiers and active filter unit. Everybody could verify the effectiveness in the reduction of harmonic distortions, the results were displayed using precision Fluke analyzer.  Many visitors told us stories related to incidents connected to electric energy poor quality and distortions.
On the first day of Baltexpo, a delegation headed by Qatar Ministry of Transport and Communicatons Mr Jassim Saif Ahmed Al-Sulaiti listened with interest to our project description and explanation.