Navy Shore to Ship Connectors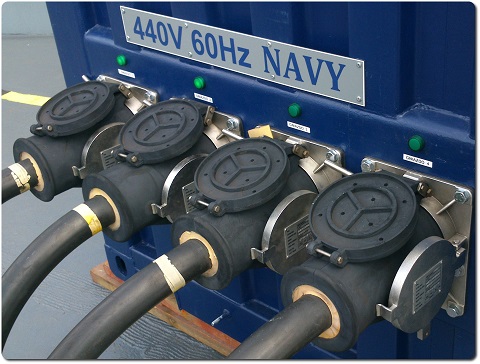 Standards applicable to Navy differ from the requirements for commercial vessels. Also with regard to shore-to-ship power supply connection during the stay in port. NATO uses the MIL-C-24368 standard that originated in the US fleet . Both plugs and receptacles, single and three phase are standardized to ensure efficient and reliable power for ships of allied forces in each country belonging to the pact.
COMEL has knowledge and experience in the field of supplying shore to vessels, both commercial and military. We proposed the Navy compliant connection as a part of our 50/60Hz converter system, which is designed to supply ships from shore during their repairs in the shipyards. Parallel operation of multiple connectors can cover the power demand of a larger warship. Plugs and receptacles are characterized by high durability and resistance to even not the most delicate handling.