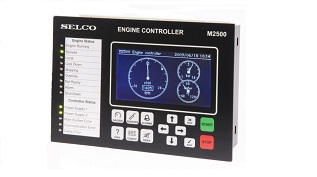 Graphical display with gauges and dials
Automatic and Manual operation
Supports magnetic and inductive pick-ups
Discrete sensors and SAE CAN J1939
On-board Alarm Panel with texable label
PC configuration by browser and USB
Alarm and event log with data and time
Data storage on built-in SD-card
RS485 MODBUS RTU for SCADA or HMI
Complies with Marine class requirements
Flush mount IP54 design
The SELCO M2500 Engine Controller has been designed for control, monitoring and protection of engines in marine applications e.g. auxiliary generators, emergency generators, harbour generators or engines for propulsion. Despite having been designed to meet the strictest requirements for marine, the M2500 is also the premiere choice for engines in land applications. Few engine controllers provides as intuitive a user interface as the M2500. The M2500 provides all necessary inputs and outputs on-board, which means that no auxillary I/O modules are required. Given the fact the the M2500 supports both discrete sensors (potential free contacts or 4-20 mA sensors) and SAE CAN J1939, the M2500 works just as well with new as well as older engines. RS485 MODBUS RTU is provided for communication with SCADA or HMI systems. The unit allows manual (local) and remote (automatic) start of the engine and will monitor all relevant engine parameters ? either through discrete sensors or thorugh SAE CAN J1939. 9 digital and 8 analogue inputs (with cable monitoring) are provided on-board for detection of alarms and/or shut down conditions. A total of 90 alarms can be configured. Each alarm can be configured for either monitoring or engine shut down. 12 programmable output relays are available. The relay outputs can be configured for common warning, alarm or shut down. Additionally there are pre-defined outputs for common alarms, shut downs and status indication. Everything is provided on-board in a single flush mounted panel. There is no need for auxillary I/O boards etc.
M2500 controller complies with Marine class requirements for installation on board ships. For more information please visit manufacturer's site  oraz download catalogue (pdf). More pictures at COMEL shop (text in Polish).